Your Hand Up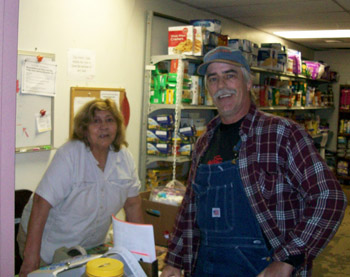 The Family Table Community Assistance Program (CAP) is a supplemental food resource, serving those below the poverty line in Delaware County, NY and surrounding areas. Our distribution center is located in the Catskill Mountain Christian Center administrative building, 629 Main Street, Margaretville, New York.
The Family Table provides assistance for people suffering a variety of hardships:
the unemployed and under-employed

those on fixed income such as the elderly or disabled,

and those who are faced with serious illness, injury or any other catastrophic event which prevents people from maintaining a basic standard of living.
The Family Table also provides assistance for qualified families who are simply not earning enough income to equip their family with all the necessary provisions.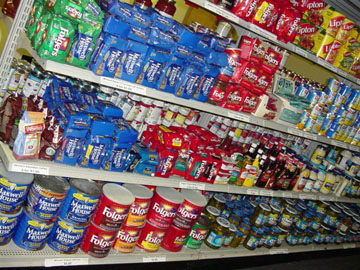 The Family Table distribution center is open five days per week so that members may shop at their convenience. The mostly volunteer staff consists of caring neighbors and many members themselves. Our prayer is that eventually members will prosper and become financially stable enough so that they will not need The Family Table. However, assistance is provided as long as it is needed.
---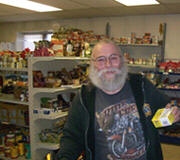 Family Table volunteers are vital to the success of the program.
Click here
to find out how people of all ages and abilities can make a difference today!
---

The Family Table store shelves are always kept stocked full with a variety of goods that are 'kitchen essentials' for most Americans.

---

---
Covering Organization
Catskill Mountain Christian Center
is one of the most successful grass-roots organizations to emerge in Delaware County in the past twenty years. The Family Table Community Assistance Program showcases our intention and ability to benefit the surrounding area, distributing food aid to over 1,000 below poverty-level households in 2008.
---
HTML Hit Counters
Visitors to The Family Table since February 28, 2014.
Provided by
site.